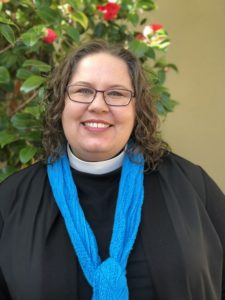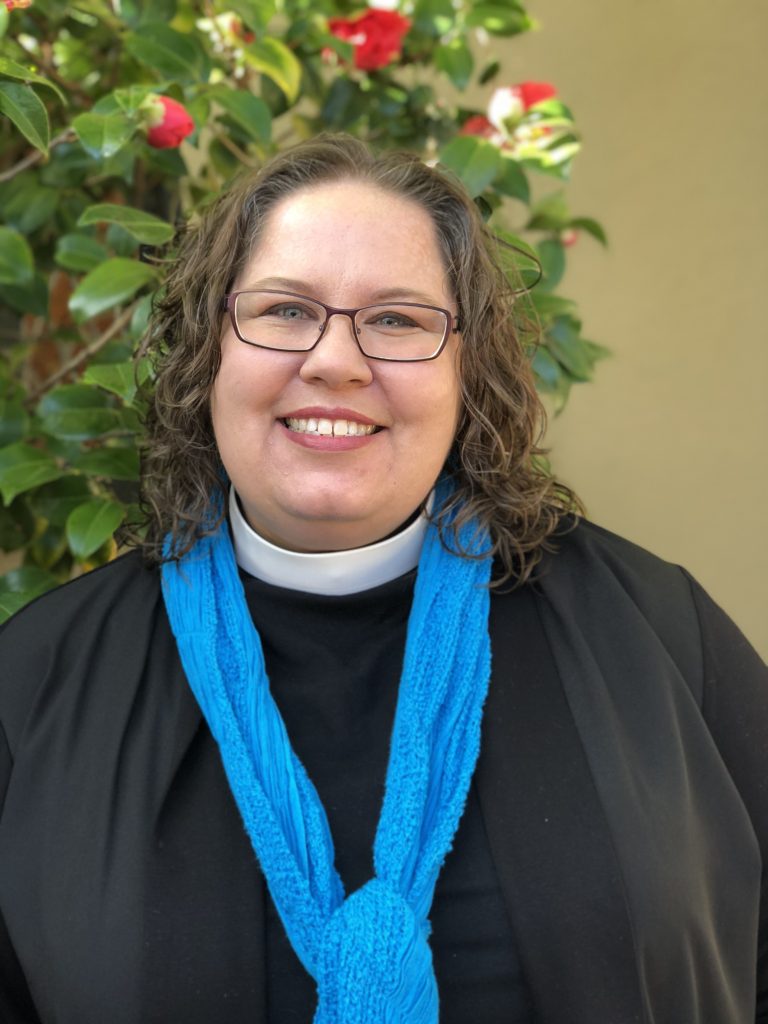 Pastor Stephanie Johnson
Trinity Lutheran Church
Pastor Stephanie grew up in Mesa, AZ where friends and family knew very early on she'd spend her life in the spotlight. She was gifted and passionate about dance, music and drama. She still loves these things, but now has focused her gifts for public presentation into her preaching and worship leadership. She received her B.A. from Trinity Lutheran College in Youth and Family Ministry, with a minor in Biblical Studies and a concentration in Worship and Music and her M.Div. from Luther Seminary in St. Paul, MN. She has served as pastor of churches in Northern Virginia, North Las Vegas, Cottonwood/Clarkdale Arizona, and has been in California since becoming Trinity's pastor in February 2018. She and her cocker spaniel, Cookie, live next door to the church in our parsonage. Pastor Stephanie prides herself in her ability to obtain the same vanity plate in each of the states where she's been a pastor: REVVD
I felt called to ministry when…
I had only been going to church for three years when, in my second year as a Theater major at Arizona State, I began sensing God calling me to use my gifts in church rather than on stage. After completing two years at ASU, I transferred to Trinity Lutheran College (LBIS) near Seattle to study Youth and Family Ministry with an emphasis in Music and Worship. In my senior year at Trinity, after three years of convincing my friends and family that studying ministry didn't mean I would be a pastor, I had a fellow student from Tanzania tell me without mincing words that I was supposed to be a pastor. It was hard to run away from a statement of such conviction. I was enrolled at Luther Seminary the next Fall.
The thing I like most about Trinity…
I have found a spirit of graciousness here at Trinity and appreciate how Trinity seems to be an extension of the neighborliness that is so natural in Alameda. To be a member of Trinity and a leader at Trinity is an extension of our everyday life rather than an image we try to uphold while we are on the church grounds.
I see God at work among us when…
…we allow ourselves to offer whatever resources, talents, skills, or gifts we have to do the work God has set upon our hearts, unencumbered by fear that what we have won't be enough or won't be good enough and then wait to see how God will multiply what we have offered to create something bigger than ourselves or what we could have imagined.
My favorite things to do in my spare time are…
I enjoy visiting coffee shops and finding new places to simply "hang out"
Every morning I start my day by…
Asking my alarm clock for 9 more minutes and God to give me the strength to wake up. I really am not a morning person…
I knew God was present in my life when…
Despite my doubt in God being "real", the bible having anything I needed, or Jesus actually having lived, God continued to speak to me in the sermons a friend's pastor preached to me as I visited with her in high school. The sermons spoke directly to me as if God needed me to finally hear that regardless of whether I believed what was being said, God was indeed real and with me in an almost tangible and undeniable way.
Favorite Bible Verse
2 Corinthians 1:3-4
Something interesting about me that would surprise people…
Disneyland really is my happy place.