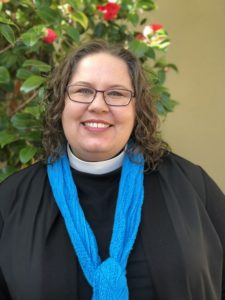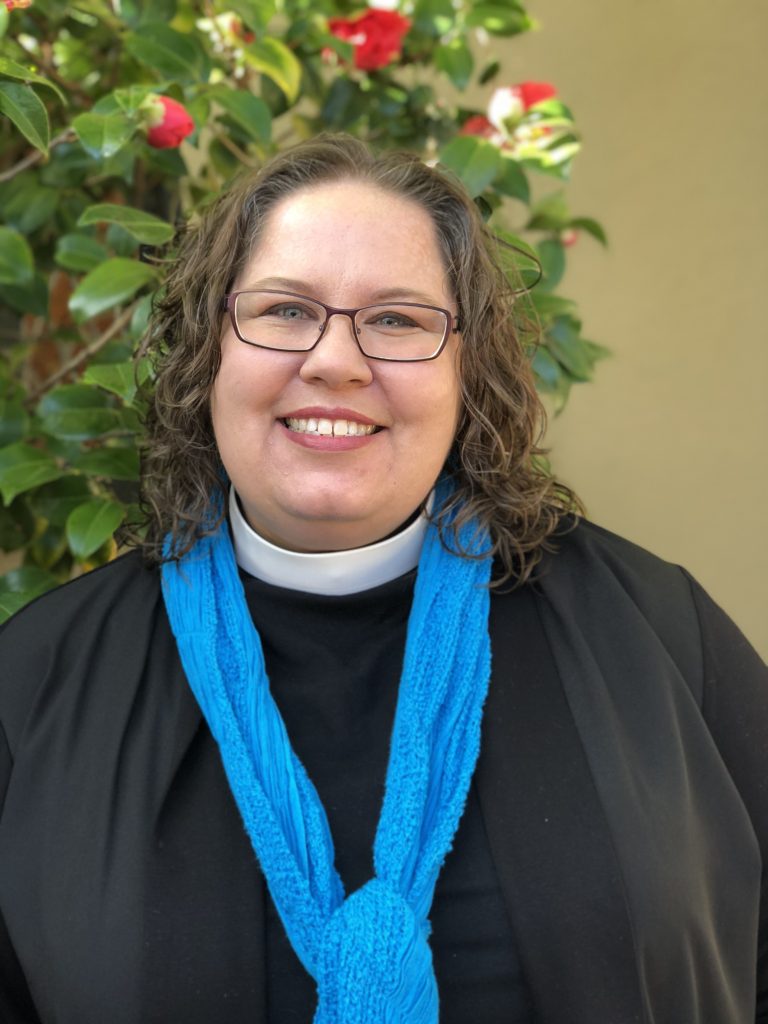 Pastor Stephanie Johnson
Trinity Lutheran Church
Pastor Stephanie grew up in Mesa, AZ where friends and family knew very early on she'd spend her life in the spotlight. She was gifted and passionate about dance, music and drama. She still loves these things, but now has focused her gifts for public presentation into her preaching and worship leadership. She received her B.A. from Trinity Lutheran College in Youth and Family Ministry, with a minor in Biblical Studies and a concentration in Worship and Music and her M.Div. from Luther Seminary in St. Paul, MN. She has served as pastor of churches in Northern Virginia, North Las Vegas, Cottonwood/Clarkdale Arizona, and has been in California since becoming Trinity's pastor in February 2018. She and her cocker spaniel, Cookie, live next door to the church in our parsonage. Pastor Stephanie prides herself in her ability to obtain the same vanity plate in each of the states where she's been a pastor: REVVD
I felt called to ministry when…
I had only been going to church for three years when, in my second year as a Theater major at Arizona State, I began sensing God calling me to use my gifts in church rather than on stage. After completing two years at ASU, I transferred to Trinity Lutheran College (LBIS) near Seattle to study Youth and Family Ministry with an emphasis in Music and Worship. In my senior year at Trinity, after three years of convincing my friends and family that studying ministry didn't mean I would be a pastor, I had a fellow student from Tanzania tell me without mincing words that I was supposed to be a pastor. It was hard to run away from a statement of such conviction. I was enrolled at Luther Seminary the next Fall.
The thing I like most about Trinity…
I have found a spirit of graciousness here at Trinity and appreciate how Trinity seems to be an extension of the neighborliness that is so natural in Alameda. To be a member of Trinity and a leader at Trinity is an extension of our everyday life rather than an image we try to uphold while we are on the church grounds.
I see God at work among us when…
…we allow ourselves to offer whatever resources, talents, skills, or gifts we have to do the work God has set upon our hearts, unencumbered by fear that what we have won't be enough or won't be good enough and then wait to see how God will multiply what we have offered to create something bigger than ourselves or what we could have imagined.
My favorite things to do in my spare time are…
I enjoy visiting coffee shops and finding new places to simply "hang out"
Every morning I start my day by…
Asking my alarm clock for 9 more minutes and God to give me the strength to wake up. I really am not a morning person…
I knew God was present in my life when…
Despite my doubt in God being "real", the bible having anything I needed, or Jesus actually having lived, God continued to speak to me in the sermons a friend's pastor preached to me as I visited with her in high school. The sermons spoke directly to me as if God needed me to finally hear that regardless of whether I believed what was being said, God was indeed real and with me in an almost tangible and undeniable way.
Favorite Bible Verse
2 Corinthians 1:3-4
Something interesting about me that would surprise people…
You might be interested to know that I can't get enough of Laurie R. King's Mary Russell (and Sherlock Holmes) book series. Truly. The author can't write enough books for me.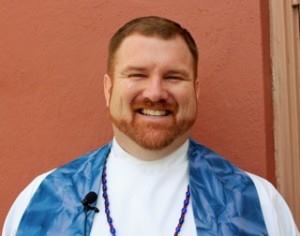 Pastor Craig Minich
East Bay Lutheran Youth Program
Hey there! Pastor Craig here! I've lived in California since 1994 when I came out to Berkeley for graduate school starting my studies at Pacific Lutheran Theological Seminary. I graduated in 1999 with a Master of Divinity degree and a Master of Arts degree in ethics. While I was born and raised in Land O Lakes, Florida (near Tampa), I consider Northern California home. I attended an ELCA University, Lenoir-Rhyne College in Hickory, North Carolina, and graduated with a Bachelor of Arts, degree double majoring in Literature and Philosophy in 1993. My partner Bruce and I make our home in San Carlos, California and celebrated our 15th anniversary together this Spring.
I felt called to ministry when…
Two formative experiences that sparked my Call to Ministry journey were serving as a camp counselor at Lutheridge Lutheran camp in Arden North Carolina after I graduated from college (Summers of '93 & '94), and serving three summers with my college's International Habitat for Humanity month-long service ventures in Guatemala (once) and Bolivia (twice). Working with confirmation programs and pastors for a full two summers helped me be finally 'confirmed' myself (I was not raised in the church and converted to Christianity in college). I kindled the spark of God's call and many conversations with fellow counselors, my campers, staff, and a plethora of visiting pastors whom I met and connected with those summers. My call, however, was sparked initially on those Habitat for Humanity International journeys where I faced global economic inequity head-on in any substantive way for the first time, and where I learned what deep community meant in regard to the communities I worked in in Central and South America on a global level, and also as I formed a deep community with my fellow International Habitat for Humanity group. Learning the lessons of living simply, learning who I was, and living out Christ's call in our lives affected me deeply and began me on the path of discipleship.
The thing I like most about East Bay Lutheran Parish and The East Bay Lutheran Youth Program
I love working with all our youth and being able to help them toward 'aha moments' when they not only understand, but experience God's grace! It's an honor that I get to see our youth literally grow in front of my eyes in those moments! I hold onto those Holy moments deep in my heart. Seeing that joy keeps me in the game!
I see God at work among us when…
…God's Harmony is enacted in our everyday actions as a community. Experiencing that harmony is a Holy thing, and I look for it daily! I rejoice when that harmony becomes obvious!
My favorite things to do in my spare time are…
…I love to go to rock concerts, to dance, to snowboard, to body surf, and to attend as many theater productions as I can!
Every morning I start my day by…
…remembering my baptism, praying, and drinking a glass of cold chocolate milk!
I knew God was present in my life when…
…I came out as gay to myself and my faith deepened in ways that I couldn't imagine! When I honored fully the Craig that God intended me to be, everything changed and substances and meaningful ways!
Favorite Bible Verse
From Nehemiah – The joy of the Lord is your strength. (This is my ordination verse).
Something interesting about me that would surprise people…
While many people see me as extroverted in the various tasks of my call and Ministry, I'm actually an intense introvert – I just have a strong extroverted mask!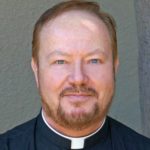 Pastor Ned O'Donnell
Lutheran Ministry to Nursing Homes
Edward (Ned) O'Donnell received his Master of Divinity degree from The Lutheran Theological Seminary at Philadelphia and was ordained in 1993. He has served as a congregational pastor, as well as in healthcare and hospice settings. His breadth and depth of experience includes both urban and suburban locales. Rev. O'Donnell became pastor of the East Bay Lutheran Parish's Lutheran Ministry to Nursing Homes in 2014. At the 2016 Synod Assembly, he was elected and installed as Dean of the Bridges Conference of the Sierra Pacific Synod, a group of San Francisco Bay Lutheran churches seeking ways in which they can share resources and work together. In addition, since July 2017 Pastor Ned serves as the part-time pastor of Trinity Lutheran Church in Oakland – one of the five congregations that comprise the East Bay Lutheran Parish. To these ministries and the diverse settings they include, Pastor Ned brings his passion to serve as an advocate to those in need, his experience in
providing spiritual care to those who suffer, and his skills as a preacher, educator and volunteer
coordinator. As a theologian, Rev. O'Donnell views himself as a progressive Lutheran who is respectful of others' experience of the Divine while remaining grounded in the knowledge of the God who has called him through ordination to serve in the name of Christ. Pastor Ned understands that Lutherans have a unique way of understanding God's grace-filled and merciful work in the world. He has been profoundly touched by Christ's promise to always be with us – even through the worst of times – and by the privilege of ministering to others during those moments. On a personal note, Pastor Ned grew up in New York and New Jersey. He is a graduate of Upsala College in NJ. He moved to San Francisco in 1995.
My favorite things to do in my spare time are…
He loves spending time with his son, family, and friends. When not enjoying outdoor activities -swimming, sailing and kayaking, hiking and biking – he enjoys going to a movie or play, or listening to an eclectic variety of music.